The Jersey Shore defined a generation.

The show about twenty-something hot messes exploded on the scene the winter of 2009, and quickly became a cultural phenomenon. We followed Snooki, JWoww, Pauly D, Vinny, The Situation, Angelina, Deena, Ronnie and Sammi Sweetheart's drama and antics like they were our own. And let's be real. They were.

When the show premiered I was a college junior and surrounded by Italian Americans at my tri-state suburban university. We listened to house and partied until we couldn't anymore. We watched our friends in their own version of Ronnie and Sam relationships and had more Snooki moments then we care to mention.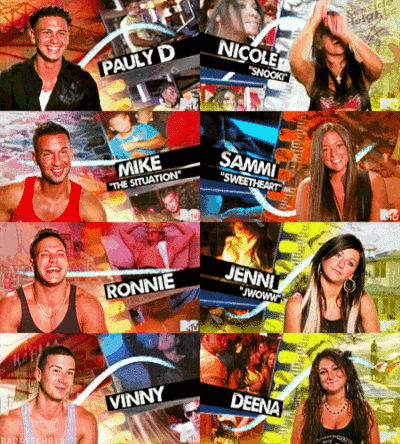 Back then, Jerzday for me meant coming back to my townhouse and getting ready for a night out with my sorority sisters. With clothes strewn about and girls taking shots in the shower, we would come together at 10pm to start a game of power hour and watch our favorite guidos/guidettes party up and down the boardwalk. Then we would head out for the night and have our own fun. Life was simple.
Jerzday is a little different now.
We're no longer coming home to a big group of raging friends after half listening in class, I'd rather take power naps than play power hour, and our good times take us a little longer to recover from. We check in with our friends on social media and scroll through their shiniest highlights. We have lived full lives since Jersey Shore ended in 2012, lives filled with babies, weddings and job promotions. Lives dampened by bills, debt, losses and failure. We've grown up.
When the announcement that the cast was on their way back to our TV screens with "Jersey Shore: Family Vacation" I was excited to watch. Hoping that it could teleport me back to those times when I would gather around with my best friends and watch people being reckless, just like us. Nostalgia has inspired the reboot of many of our favorite shows, but there is something different about rebooting a reality show with the same people. We get to see exactly how they have grown within the perspective of our own growth.
First of all, I would like to point out my appreciation to MTV for premiering this at 8pm and not 10pm, like the original run. Because we're old and tired now and I may not have have been able to make it. I feel seen.

The season premiere of Jersey Shore Family Vacation updated us on what has been happening since we last saw the roommates – Deena's married, Pauly D is a famous DJ, Vinny is skinny, Snooki and Jenni are moms and wives, Sam is in a happy place (and not in Miami!), Ronnie is expecting a child with a woman who is not Sam, and Mike "The Situation" is sober. A far cry from the carefree roommates we met in Seaside nine years ago.

Their first party scene on television is filled with "back in my day" anecdotes and excuses about why they need to get crazy. They don't go out anymore and this is their time to shine. We watch the cast get back into their old groove, but there is something about their partying that seems slower, a bit more laboured. (Ron being surprised that Jenni could still drop it like it's hot was definite age shade) When you are past your "acceptable" partying age what seemed carefree 5 years ago now feels irresponsible. I watched them get wasted and immediately thought about their future hangovers. WHO AM I? What has society done to me?

The rest of the episode is more of the same, hard partying in between real adult moments. Jenni and Nicole, deep in the throws of mom guilt, crying about how much they already miss their children. Deena and Ron arguing about their friendship when tested by breakups and death. Watching Vinny refuse to eat the bread of his pizza while drunk because carbs are the devil and our metabolism hates us now. The roommates are just like us. Dealing with real life and also finding time to let loose. Just because we got older doesn't mean we don't like tequila.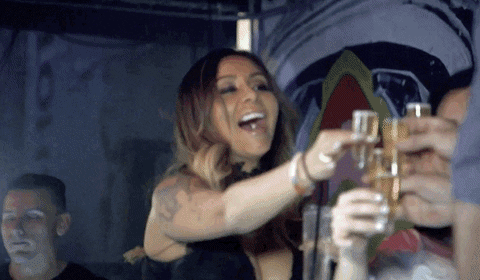 I'm happy the cast is back and the season looks like it will be a whirlwind time. I don't think I'll be making it a staple like I did in '09, but when life allows, I'll definitely watch to live vicariously through America's favorite hot messes. However, Jerzday will remain as just Thursday this time around.